Our Heritage – Where we come from
In the early 1200s, in the picturesque landscape of Assisi in Italy, a man who became known as St Francis of Assisi pioneered a unique and humble way of life; a way of life where those who are sick, frail and less fortunate are put first and treated as lovingly and tenderly as a brother or sister. Their needs became his needs and he dedicated his life to improving their quality of life in any way he could.
Several hundred years later in the 1800s a woman by the name of Hélène de Chappotin felt the same calling to help the poor, the sick and the downtrodden. She felt this calling when she saw people in extreme poverty in India. She sought to create a new order of Sisters who would live by the example set by St Francis, who would look past a person's condition in life, both physically and spiritually, and care for their needs holistically. She founded the Franciscan Missionaries of Mary (FMM) in 1877.
Since then the FMM Sisters have become an international religious congregation of women comprising 78 nationalities and spread over 77 countries in the five continents of the world. As of 2012 it was the fifth largest religious institute for women in the Catholic Church with 6,698 members.
Our Development Over Time
In 1946 six Franciscan Missionaries of Mary (FMM) arrived in Australia from Canada, Ireland and England. The Sisters began to care for women in Surry Hills, Sydney, who were either destitute, socially at risk or intellectually disadvantaged. The founding Sisters assumed management of the institution which became known as 'Our Lady of Consolation'.
With the numbers increasing a larger property was sought and found at Rooty Hill, in the outer West of Sydney, on a five-hectare site which was formerly a golf course and country club.
On July 25th 1959 Our Lady of Consolation was officially opened and the residents moved from the inner city to their new environment at Rooty Hill. In 1962 – 1963 the original buildings were extended to cater for up to 300 aged care residents.
An ongoing program of building replacement and enhancement has continued and all the current residents are accommodated in modern contemporary buildings. All residents are now accommodated in single rooms, with the exception of five double rooms in the nursing home.
From 1989 Our Lady of Consolation started providing services in the community to enable people to stay in their own homes for longer. These services were funded under the Home and Community Care (HACC) program.
In 1998 the Franciscan Missionaries of Mary moved to a more contemporary model of governance and formed a new company known as Our Lady of Consolation Aged Care & Services Ltd and assigned to this new company responsibility for the operation of the residential aged care and community aged care services.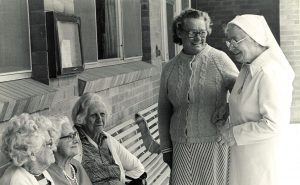 In 2002 our first OLOC 'Packaged Care' community care service commenced, and since 2005 there has been substantial expansion and diversification in these packaged care services. We now operate a full range of community care services in an area stretching from Mt Druitt to Epping, and from Merrylands to Dural. More than 25% of our staff now work in community care roles.
In 2008 OLOC established a centre based respite centre, our Day Respite and Wellness Service.
In 2015  Get Yourself Moving programs was established when we opened a new purpose built, fully equipped gymnasium at our Rooty Hill site. In the community, we offer in-home programs and our community-based exercise programs operate from six suburban centres.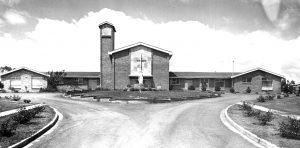 In 2020 we opened our first shop front Get Yourself Moving centre, focusing on improving the strength and fitness of older people living at home. A new hydrotherapy pool complex adjoining the centre is due for completion in 2021.
In 2020 we also opened our first affordable housing project, at Toongabbie.
Our second affordable housing project is scheduled for completion in late 2021.