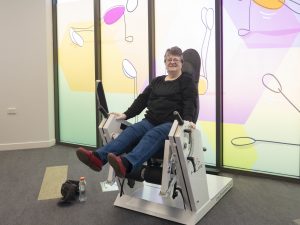 An extension of our existing senior exercise programs, the Toongabbie Fitness and Wellbeing Centre provides a place for our organisation to focus on our client groups who still live at home.
The Toongabbie Fitness and Wellbeing Centre is a modern gym setting for community-based and Short-Term Restorative Care programs to operate. Hosting a number of programs from intensive rehabilitation to short term 8-12 weeks exercise programs, the centre provides an opportunity for entirely customised programs for each client.
Complete with a main gym area, consultation rooms, lockers and shower amenities; the Fitness and Wellbeing Centre is open to the public as a part of our community-based programs. These machine-based training programs will be aimed at clients who need to improve their strength after an acute episode or have been advised by their medical professionals. The ultimate goal for the clients in the Health and Wellbeing Centre is to later be referred onto our maintenance programs which are already run in a number of our local community centres.
How to Get Started
For further information contact our friendly staff on (02) 9832 5484.
We would be happy to assist you in your contact with My Aged Care and help you to navigate the government aged care system.
A community of people focused on exercise, health and wellbeing.