Choosing a Home Care Package with Our Lady of Consolation gives a client access to an individualised Get Yourself Moving program that fits seamlessly in to a program of care and services.
One consultation with the Get Yourself Moving team is all it takes for a Get Yourself Moving program to be mapped out and incorporated into a client's package. Each program aligns with a client's everyday goals, their level of ability and budgetary preferences.
This means that no two Home Care package Get Yourself Moving programs need look alike.
One client might choose a home based exercise program to have fun and get fit. Another client might want to focus on upper body strength so they can continue to do household tasks and other clients might focus on lower body strength and balance because they have had a recent fall. In each case, our exercise physiologist will help track the client's progress.
OLOC Get Yourself Moving Programs allow clients access to a range of professional staff who are available for one-off or ongoing consultations: exercise physiologists; massage therapists; physiotherapists, registered nurses and more. A client might also choose to sometimes come to our purpose-built facility at Rooty Hill to use our specialist equipment.
A Home Care Package Get Yourself Moving program is particularly useful to people who live in their own home and who:
are interested in reducing their risk of falling, or;
are concerned that they may be sitting for too many hours of the day;
would like to get back to their normal level of activity after a stay in hospital or a prolonged period suffering an acute illness.
Whatever the reason, you can meet with our exercise physiologist and enjoy a full assessment of your physical capacity, followed by a tailor made exercise program focusing on your real life goals and needs.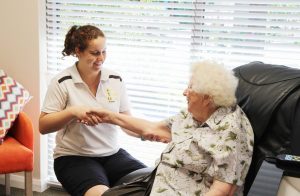 How to Get Started
Before you can apply for any of our Home Care Packages you will need an assessment from an Aged Care Assessment Team (ACAT). This assessment is needed to confirm your care needs and that you are eligible for a Home Care Package.
Call us on (02) 9832 5417 and our Customer Liaison Coordinator will take the time to answer all your questions and can help you to navigate the Aged Care System including obtaining the ACAT assessment.
Alternatively you can contact MyAgedCare on 1800 200 422 and ask for to be referred to Our Lady of Consolation's Home Care Packages.
When we have your referral we will follow up and meet with you about what you want help with.
Exercise to help you live better and manage at home for longer.