Our Lady of Consolation provides specialised residential care and support to people with dementia in our secure dementia-specific care units at our Rooty Hill campus. We have two dementia-specific facilities, both with easy access to a secure, safe garden area.
Assunta is our dementia specific unit for people who may initially only require low level care but need the security of a dementia care environment and the support of staff who have been specially trained for that role.
St Anthony's is our high care dementia specific unit. It is a specialised unit, like Assunta, but one that is more suited to those with higher care needs.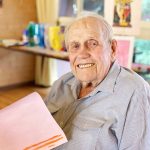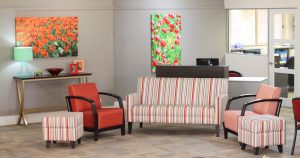 We support and care for each individual living with dementia in a person centred way, with an appropriate, consistent and competent team of staff led by effective management within supportive and safe environments.
We offer regular supervised bus trips for residents living in Assunta and St Anthony's and they are able to take part in a range of other activities on campus.
Exercise -for example- is critical for older people, so we encourage and support people living with dementia to participate in physical activity and exercise. Through the week the exercise specialist GYM team operate group exercise programs; active games and garden walks for residents living in Assunta and St Anthonys.
We recognise that someone with Dementia can be approved for our High Care, Low Care and also Respite Care services. For this reason we are careful to ensure that each person with Dementia is cared for in the best possible environment we can provide.
Our low care facilities operate within an Ageing in Place philosophy, which means that a resident may be able to continue living in a non-dementia specific area.
Dementia Care Rooms
Our Lady of Consolation offers secure specialised dementia care in Assunta and secure specialised dementia care for people with more complex health needs in St Anthonys.
This information is accurate from 1 April 2022.
Before You Can Apply
Before you can apply for our Residential Care services you'll need to register with a government service called My Aged Care and complete an assessment with an Aged Care Assessment Team (ACAT). The assessment involves a face to face visit from assessors who will discuss your daily routine, talk through your care needs and determine what services you may be eligible for.
Once the ACAT has assessed your needs you can contact the staff at Our Lady of Consolation Aged Care & Services to request further information or to talk about how we can help. You can contact us at  98325412.
You can contact your nearest ACAT via the My Aged Care website or on this number: 1800 200 422