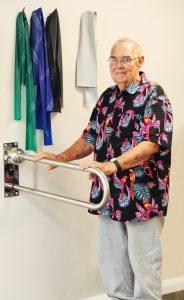 At Our Lady of Consolation, we are exceptionally proud of our Rehabilitation and Respite Program. Working with our Get Yourself Moving team, the program has seen multiple successes, allowing people to remain living independently at home rather than needing to move into residential care.
This program is of real benefit to people who are at risk of moving into residential care, but want to improve their mobility and physical function so that they can continue living independently at home. People who:
Are returning from a hospital stay or an intensive hospital rehabilitation program;
Have experienced a sudden decline in function due to illness or injury while living at home, or are;
Interested in improving their physical fitness to reduce their risk of a fall or make life easier for their family or carer and remain living at home.
A typical client might be someone who has suffered a stroke or is recovering from a fall.
They might have been in hospital or maybe spent time in a short hospital rehabilitation program,
but they still need to make further progress in order to return home.
That is where a short-term rehabilitation respite program can be a real help.
Run by Our Lady of Consolation's Get Yourself Moving team; the program brings together health, exercise and rehabilitation professionals who work with a person, their doctor, and their loved ones to create a personal exercise and rehabilitation program.
The team assesses a person's ability and talks to them about their personal goals before starting them on their program. Whatever the individual circumstances OLOC's Get Yourself Moving team have the facilities, expertise, equipment and support to help you to continue living independently at home.
Alongside their individual rehabilitation program, respite care residents are encouraged to be involved in all aspects of everyday life at Our Lady of Consolation. Although only staying with us on a temporary basis, respite care residents can participate in any of our daily group fitness classes, are offered a superior range of choice for meals, free Wi-fi and cable TV, as well as the opportunity to enjoy our daily leisure and lifestyle activities.
Before You Can Apply
Before you can apply for our Residential Care services you'll need to register with a government service called My Aged Care and complete an assessment with an Aged Care Assessment Team (ACAT). The assessment involves a face to face visit from assessors who will discuss your daily routine, talk through your care needs and determine what services you may be eligible for.
Once the ACAT has assessed your needs you can contact the staff at Our Lady of Consolation Aged Care & Services to request further information or to talk about how we can help. You can contact us at  98325412.
You can contact your nearest ACAT via the My Aged Care website or on this number: 1800 200 422