Low Care, traditionally known as Hostel Care, is a type of residential care for people who are more independent and physically able than those requiring Nursing level care, but who may still need daily assistance and support, such as dressing, bathing and eating.
Our Lady of Consolation has three Low Care facilities including St Helens and Alverna, which are general-purpose facilities and Assunta, a dementia specific, secure facility. We aim to provide quality, professional care in a personable and friendly style with staff who genuinely like elderly people.
We have an ageing in place philosophy, which means that if a person's care needs increase over time we try to support them in the same facility without them needing to move to a nursing home bed in another facility.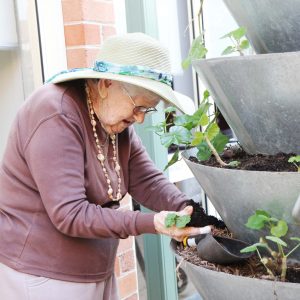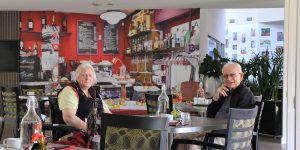 We want to improve each resident's sense of well-being regardless of the health challenges they may be experiencing. We do this in the following ways:
We focus on residents' physical comfort and freedom of movement, minimising pain and maximising independence;
We encourage residents to stay connected and engaged with people and interests;
We focus on residents' emotional and spiritual wellbeing, seeking to minimise levels of depression and help residents to find a sense of peace.
In low care we have a particular focus on improving the general fitness levels of our residents. The exercise physiology team offers residents the chance to participate in 31 group exercise sessions each week in low care. Residents can also have a tailored exercise program that suits their individual needs and abilities.
For residents with chronic pain, our physiotherapy team offers individualised massage and treatment programs to reduce pain, increase freedom of movement and help with recovery from injuries.
We know that in low care it is very important that residents stay connected with people and with interests, and our extensive leisure and lifestyle team offers residents a wide range of interesting and creative pursuits, including photography, creative art and gardening programs. Alternatively, residents can just relax in our tranquillity rooms, enjoying the aromatherapy and massage facilities. Our internet facilities, and individualised training, provide residents with another way of staying connected with family and friends.
In regard to emotional well-being, low care residents can choose to participate in a program that confidentially measures and monitors how new residents are settling into their residential care facility and which identifies anything that the resident may be concerned about. A psychologist meets with each new resident in the first week and again after six weeks to assess how the resident is settling in and how we can help each person adapt to and make the most of their new environment.
Our pastoral care team is available to provide support to residents who have a religious faith and who wish to maintain contact with their church.
We want to see that daily meals are a culinary delight and we offer a superior range of choice, including a choice of two hot meals for breakfast. At lunchtime there is the choice of three different hot meals, and then two more for dinner as well as the option for a smaller meal.
Each facility has its own dining, lounge and internal courtyard areas. The interior décor reflects a modern, comfortable environment with large photographic canvasses, and stimulating colour schemes. Most dining areas have tones of red and orange which are known to stimulate appetite and provide a sense of warmth and comfort.
Our fleet of three buses, two of which are wheelchair accessible, take residents out more than 10 times per week, regularly travelling as far as Wollongong, the Northern Beaches, the Eastern Suburbs, the Blue Mountains and everywhere in between. Fish and chips at La Perouse is a favourite bus outing for many residents.
The on-site hairdresser is readily available to all residents. She can come to residents if for any reason it is not convenient to visit the salon.
Free cable TV and Wi-Fi Internet are two additional benefits that residents can enjoy in our low care facilities.
Low Care Rooms
Our Lady of Consolation offers a range of accommodation across its residential facilities. In a high care setting we offer general purpose rooms in Alverna and  St Helens and secure specialised dementia care rooms in Assunta.
This information is accurate from 1 April 2022.
Before You Can Apply
Before you can apply for our Residential Care services you'll need to register with a government service called My Aged Care and complete an assessment with an Aged Care Assessment Team (ACAT). The assessment involves a face to face visit from assessors who will discuss your daily routine, talk through your care needs and determine what services you may be eligible for.
Once the ACAT has assessed your needs you can contact the staff at Our Lady of Consolation Aged Care & Services to request further information or to talk about how we can help. You can contact us at  98325412.
You can contact your nearest ACAT via the My Aged Care website or on this number: 1800 200 422